Amazing and unique costumes for all types of events!
Cube
…suspends the audience's grasp of physical reality as the Spandex Cube transforms into extraordinary images that seem impossible for one man to conjure. It stretches, it dances, it spins and keeps the audience riveted by its innovative expressions. This magical piece has won acclaim inPoland,Hawaii, andEngland…on the CBC, Much Music, and YTV… and has been featured with symphonies across Candada. The Cube has wowed audiences dancing in clubs like GUVERNMENT, INDUSTRY, and WHISKEY SAIGON.   It can also be transformed into a walking Gift Box, complete with bow, which can be used for special gift presentations, Christmas, and other special events.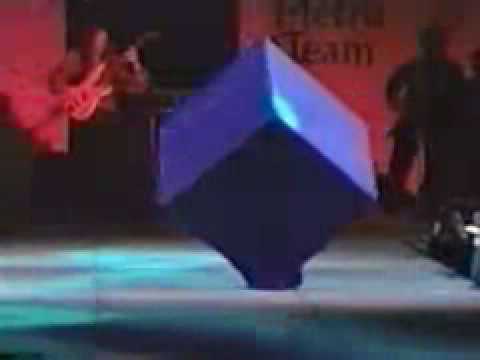 Harry The Robot
"Hairy" the Robot is a lovable Muppet-style character covered in yellow hair.  It is a life-sized, remotely-controlled, battery-powered unit that rides a tricycle.  The unit is operated from a distance by an operator and it can "talk" via the operator using a wireless microphone system.  The operator can also hear what's being said so that an actual conversation takes place. The mouth movement is automatic.  Head rotation is remotely controlled.  The character is approachable, engaging and interactive.
The robot can also be used for promotional purposes, present a company's message, or just be plain fun.
Lollipop Dresses
It looks so good that you could eat it… and we're not kidding. Taking fashion and flare to a new level of delicious! The lollipop dress has been the conversation piece of many adult and children's events. The brightly coloured show-stopper is adorned with over 225 lollipops, cake pops or cheese cake sticks for guests to pick and enjoy. Unique as it is sweet, the piece can also be customized with company logos on each treat.
Wendell The Puppet
Wendell is a life-sized puppet. He walks-around, interacts and poses for photos with people on the street. He walks up and down the streets or venue, stop at store fronts and chat up with people. If it's not too busy, Wendell can also do portraits and play harmonica. He's a great promotional tool, he can be fed with information and he'll gladly relay it to your audience/clients.
Here's a link to give you an idea how this works.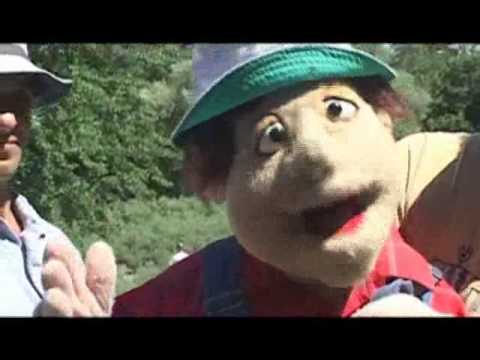 Fat Clown Act
And more!